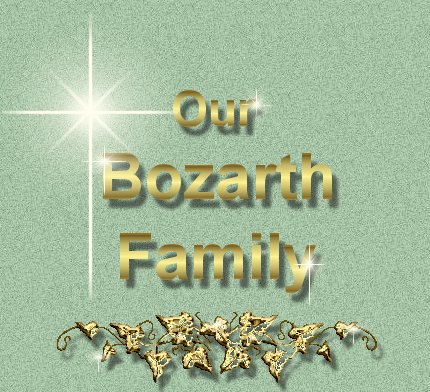 Part IV Levi
Joseph's sixth son, and ninth child, was Levi. He as born between 1775 and 1780 somewhere in Virginia or West Virginia. As land was getting harder and harder to buy "cheaply" the Bozarths starting going farther and farther west. Even if Joseph had split up his land between all his sons (daughters were never left land), there were 8 in all and even with 500 acres they would have only had about 60 acres apiece, hardly enough to farm, raise cattle, etc. to support a family. Remember, they had to raise wheat for flour, corn for meal and to feed the stock, sorghum or cane for sugar, raise hogs for both meat and lard, cattle for beef and cows for milk; they raised sheep to make clothing, chickens or other fowl for eggs, and of course a vegetable garden where they had to raise enough potatoes to last them all year, plus other fruits and vegetables that could be stored in a cellar. So, Levi and others started moving west. Sometime about 1800 Levi was in Hardin Co. Ky. , not far from Nelson Co. There he met Sarah (Sally) Pierce, the daughter of William Pierce. Evidently Sarah's father was dead because the Marriage Bonds have James Pierce listed for Surety (in the sum of fifth pounds currency) "The condition of this obligation is such that there be no legal cause to obstruct a marriage, shortly intended to be solemnized between the above Levi Bozorth and Sarah Pierce," and signed by George Pierce who stated "she now lives with me"..indicating that maybe William had died and she was now in the household of her uncle, William's brother. Levi and Sarah were married on February 24, 1802.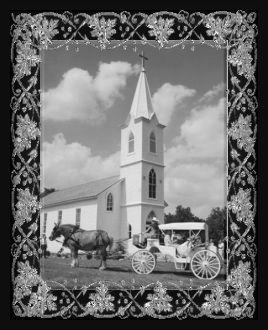 Levi and Sarah moved to Tennessee shortly after their marriage as records show that their second child was born in Tennessee in 1806. There were 10 children all together, Elizabeth, the oldest, then Joseph (2), John D., William, Bird Waymon, James, Malinda, Nathan, Levi Jr. and Sarah. They all appear to have been born in White Co. Tennessee (now DeKalb, Co). Levi was a landowner and farmer and his children were raised much in the say way he was. They settled in the Falling Water Community, Mine Lick Creek. Nearby a family by the name of Burton lived. Henry Burton and his wife Mary had 14 children. The Bozarths and the Burtons intermarried and raised many children along the Mine Lick Creek. Elizabeth Burton married Joseph Bozarth, Nancy Burton married William Bozarth. There were several other families who lived nearby including the Robbins. Levi Bozarth died in 1840, the year that Joseph's eighth child was born. Sarah lived until about 1855. Levi's will reads -

In the name of God Amen, I Levi Bozorth now being low in health but sound in mind knowing that it is appointed for all men once to die and it is my desire to make some disposition of my property before I die, therefore I do make and ordain this my last will and testament. First it is my desire after my decease that my body be burried in a decent manner. Secondly, it is my will and desire that my dear and beloved wife shall keep and possess the lower plantation and my negro man Charles during her lifetime and that she will have for her use and benefit as much of my stock of horses, cattle and hogs as will be necessary for her maintanonce and thirdly it is my will and desire that the executors shall settle as soon as possible after my decease all the depts due to me and pay it over to some who I am indebted to or as much as I am owing, and fourthly it is my will and desire that my Executor shall after setting a part of what I have bequeathed above to my wife Sally sell at some credit that they may agree upon all my real and personal property and divide the money when collected among my children in the following manner. To wit, that my sons Joseph and William have each an equeal share after deducting from each of thir shares forty dollars , that Bird shall have from his shared deducted one hundred and fifty dollars; that James shall have deducted from his share one hundred dollars and that NG Steel, the husband of my daughter Elizabeth shall have from his share all but fifty dollars and further it is my wish and desire that Nathan and Levi, and Lindy and Sally shall have thir full share without any deduction whatever and I further nominate my sons Joseph and William as the executors to this my last will and testament.


In addition to the above will it is my desire that none of the lands shall be sold until the death of my wife Sally and that the houses and land, and improvements on this side of the creek is to be understood as part of the lower plantation left to my wife as above stated witness my hand and seal this 10 day of November 1840. And it is further my will that the uper plantation shall be laid off in lots of equal value by my executors and as many of my legatees as wonts to cultivate thir part shall have it so laid off each year to them each to keep up his part of the repairs of said plantation. Levi (his mark) Bozarth.